RVA Street Art Festival
Mar 24
RVA Street Art Festival Returns for 2013!
The RVA Street Art Festival will be back for a second year, returning in September and will be held at the former GRTC bus depot on West Cary Street.

This 6.8-acre GRTC site at West Cary and Robinson streets was a hot topic a couple of years ago. The property is assessed at more than $3 million and considered prime real estate on the southwestern edge of the Fan. It has been a ghost town since the Greater Richmond Transit Company moved its bus depot to South Richmond in December 2009.
The Festival will mainly be held outside of the buildings and will not have access to the entire site, according to Jon Baliles, who represents Richmond's 1st District on City Council and is organizing the event with artist Ed Trask. They have teamed up with artist and curator Vaughn Garland, who co-organized the acclaimed Manchester Sculpture Invitational in 2005-06. 
Click here to read the press release.
Jan 12
Clever Street Art from French Street Artist OakoAk
Here are 30 fun shots of French street artist OakoAk, whose clever street works can be found all over St. Etienne and other cities in France.

OakoAk carries on with his style of not intervening too much with the way things are on the street, and upgrades them with just a little unexpected touch. By only adding a couple of lines and few colors, OakoAk gives the cityscape of his native St. Etienne this element of surprise that street art is all about.


Jan 04
New Interactive Street Art from Ernest Zacharevic
Artist Ernest Zacharevic has been busy since first appearing on Colossal last summer with his unique style of street art that often relies on the interaction between physical objects and painted murals. The Malaysia-based artist traveled to Brussels and Panang to create new work, and also completed a series of ads for Toyota about parking lot safety. He also appears prominently in a new book about street art in his native Georgetown.
Jan 03
Atlantic Magazine Talks Up RVA Street Art Scene
A collection of international artists transformed the former hydro-electric plant on Brown's Island and a neighboring flood wall as part of the Street Art Festival.
The result is an engaging public space with the eclectic collection of works. "The public came to watch the artists do their work and that had a massive impact," says Trask. "It changed the area abruptly."
Jan 02
"No brushes or stencils, just spray"
Absolutely amazing - this piece was done by David Walker in London and is 100% free hand with spray paint….(via Street Art Utopia)
Jan 01
106 of the Most Beloved Street Art Photos
Settle in and work off the NYE festivities fuzziness and enjoy 106 of the most beloved Street Art Photos (via Street Art Utopia).
Dec 31
The Best Los Angeles Street Art of 2012
Here are the top 21 pieces, as selected by our resident graffiti enthusiast Jake Dobkin, and as shot by him and Lord Jim, the great L.A. street art photographer.
Dec 27
Duke of Lancaster: Street art murals on beached ship in Wales
The Duke of Lancaster has become a landmark since it was grounded in the Dee estuary, Flintshire, Wales in 1979. Graffiti artists from across Europe have begun spray-painting images on the former Sealink steamer's hull.
The street artist collective, called DuDug, a wordplay on the Welsh for black duke, say they want to transform the outside of the vessel into an open-air gallery for graphic art.
It would make the Duke of Lancaster into a colourful addition to people starting out or finishing the coastal path.
The ship's owners have since given their blessing to the pop art collective's project, providing access to the vessel for spray painting of artwork that often takes days to complete.
Click here for video and BBC story
Dec 26
The Best of Brooklyn Street Art (video)
Check out this video with the best street art in Brooklyn from 2012….
"Of the 10,000 images he snapped of Street Art this year, photographer Jaime Rojo gives us 110 that represent some of the most compelling, interesting, perplexing, thrilling in 2012."
Dec 18
Get RVA Street Art Noticed on the Huffington Post Favorite Street Art Photo Challenge
Help get RVA Street Art get noticed by uploading your Instagram photos to The Huffington Post Favorite Street Art Photo Challenge. It's a great opportunity to promote all of the great street art in RVA!

"What's your favorite piece of street art? Head to Instagram to snap a photo, tag it #hpstreetart to be included in the round-up below, and kindly let us know the comments section what street art means to you.
This week, our community members submitted photos to us from all over the map of their favorite street art. We saw special monuments in Berlin, murals in Montreal, and graffiti in Brooklyn — proving to us that anything can turn into an opportunity to create great art if your eyes are open."
Giddie up.
Dec 11
Where To Find The Best Street Art In Los Angeles
"In recent years, the street art movement has made great strides in demonstrating its undeniable social appeal. The demand for its aesthetic has spread in a myriad of directions. "
"When it comes to providing cultural enrichment, revitalization of the urban landscape and connecting with the community it shares public space with, here are the prominent players in the L.A. street art scene that support the outrageous talent it has cultivated for so many years. Here's to making sure that street art continues to transcend former perceptions."


Dec 09
Stuck on the City Street Art in Prague
stret
Part of Prague's City Gallery, one of the city's best-known venues, has been turned inside out, recently launching an exhibition of work not usually restricted by gallery walls. Entitled Stuck on the City, the show brings together work of top international street art and graffiti artists, names like Swoon, Zedz, the Czech Republic's Pasta Oner and others.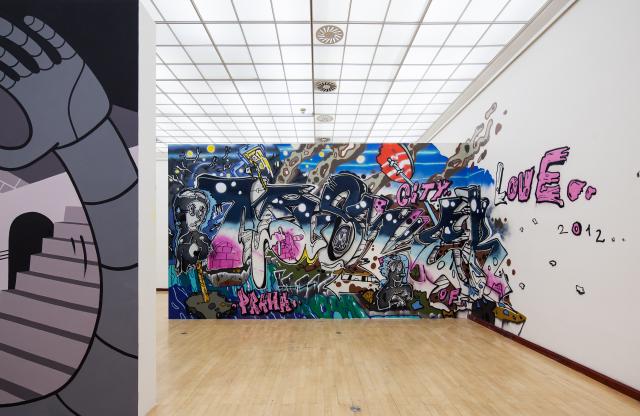 Dec 08
Street Art Exhibit at the Musee de la Poste
If you find yourself in Paris between now and March, check out the Street Art Exhibit at the Musee de la Poste that features 11 big name street artists: Bansky, C215, Dran, Invader, L'Atlas, Ludo, Miss. Tic, Rero, Shepard Fairey, Swoon and Vhils.
Here is a short video from Butterfly Art News.
Dec 07
The Talents of Eduardo Relero's 3-D Street Art
Madrid-based street artist Eduardo Relero is not only a talented 3D illusionist but an enthralling storyteller as well. Using techniques of anamorphosis, he creates unbelievably realistic illusions of fantastical scenes—that take place in what appears to be holes in the ground. While other 3D artists are content for their art to entertain, Relero often weaves thought-provoking storylines into his artworks.
Dec 06
Global Murals via From Up North
"In From up North's inspiration galleries we present the latest of our findings from the wonderful world of design. Amazing high quality artworks in various categories from great designers all over the globe."
Some really amazing street art but my favorite would have to lean toward the Gangster Ernie & Bert mural…